Video has become a non-negotiable for brands that want to grow online. But video can be difficult and time-consuming to produce. That's where Haute Stock's Video Assets come in. They're beautiful, customizable and created specifically for women business owners! So if you've been looking for stock videos for social media & websites, Haute Stock has what you need!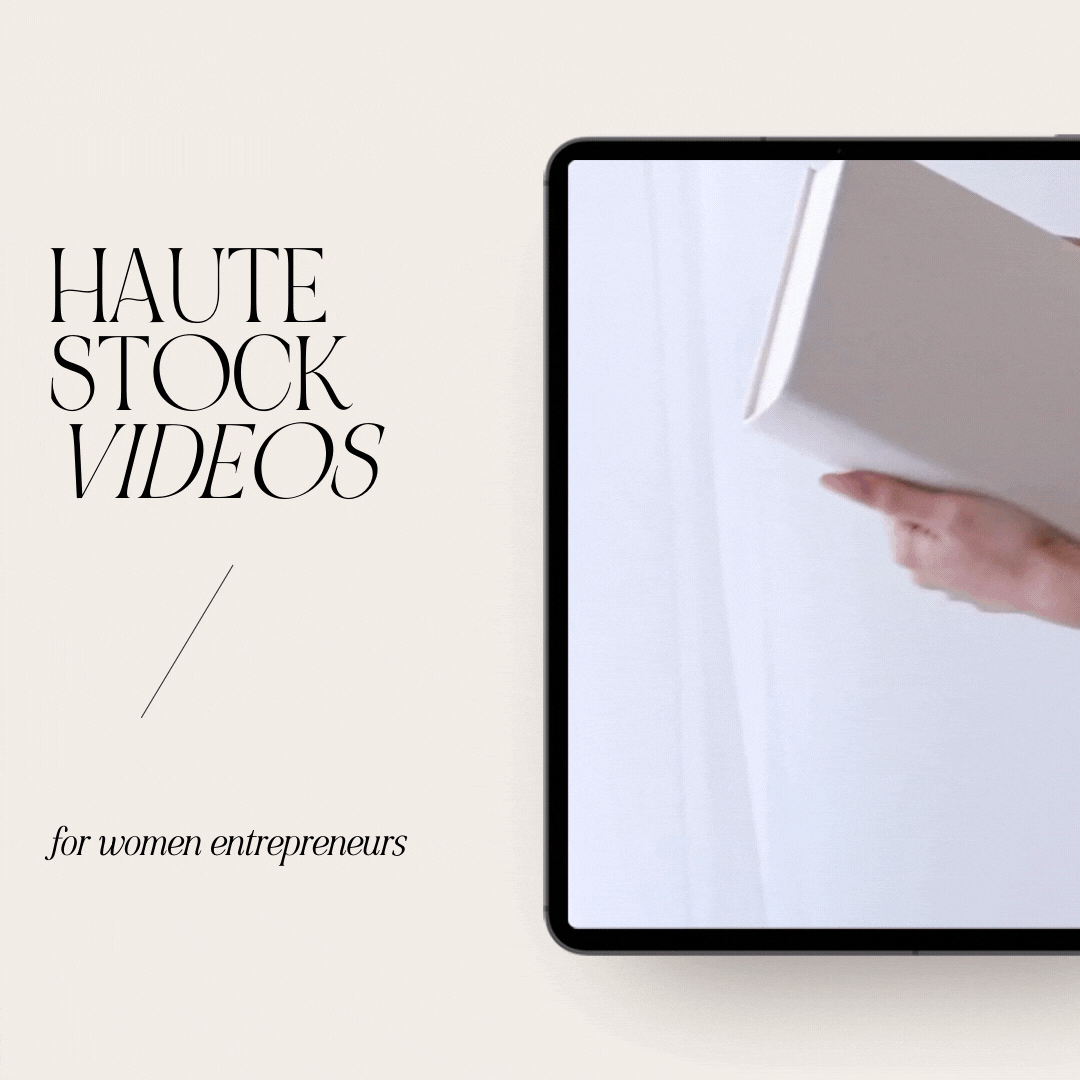 Stylish & Strategic Stock Videos
Video is the fastest growing medium for content creation. Brands that want to connect with their audience, grow their reach, and sell strategically need to be using video. We saw video having a moment with the rise of TikTok and the introduction of Instagram Reels, and knew we had to start creating stock videos for social media & websites so Haute Stock members would have the resources they need to market their brands online!
Scroll down for a preview of the stock videos in the Haute Stock library
Stock Videos for Website Headers
Inside the Haute Stock Library you'll find a selection of stock videos that can be used to create attention grabbing website headers that will beautifully set the tone for your entire site.
Vertical Video for Social Media
Haute Stock Videos make beautiful backgrounds for Instagram Stories.Use them with Instagram polls, question stickers or quizzes to boost engagement.Or overlay your own notifications, tweets, or other copy to create compelling Stories that connect with your audience.
You can also use Haute Stock videos to create Instagram Reels! It takes less then 10 minutes to create a Reel using stock video by using this workflow:
1. download your favorite Haute Stock videos from the library
2. open Instagram and search for a trending audio
3. click "Use Audio" and then add your Haute Stock video to the background
4. add text from within the Instagram app
5. write your Instagram caption
6. add a cover (you can use a stock photo from the Haute Stock library, or just grab a cover from your video)
7. and post!
Creative Stock Video
We're working on creating a collection of stock videos that portray the creative process. So whether you're an interior designer, photographer, stylist or graphic designer, you can use these stock videos for posts about creativity or the creative process.
Video Backgrounds for Social Media or Blog Posts
Simple background videos are a great way to add movement to your posts without adding any distracting elements. Simply add your copy to create a customized video with your brand messaging.
Stock Video for Women Owned Brands
Created by women for women, these stylish stock videos are perfect for coaches, course creators and service based businesses whose clients and customers are women.
Launch your Offer in Style
Our selection of celebration stock videos are perfect for your sales or promotions, launching a new product or offer, or celebrating business milestones.
High-end stop motion animation videos for your holiday marketing campaigns will make your brand stand out from the crowd and add a touch of effortless elegance to your Black Friday and Christmas marketing graphics!
---
Ready to get your hands on stylish stock videos for your social media and business graphics?